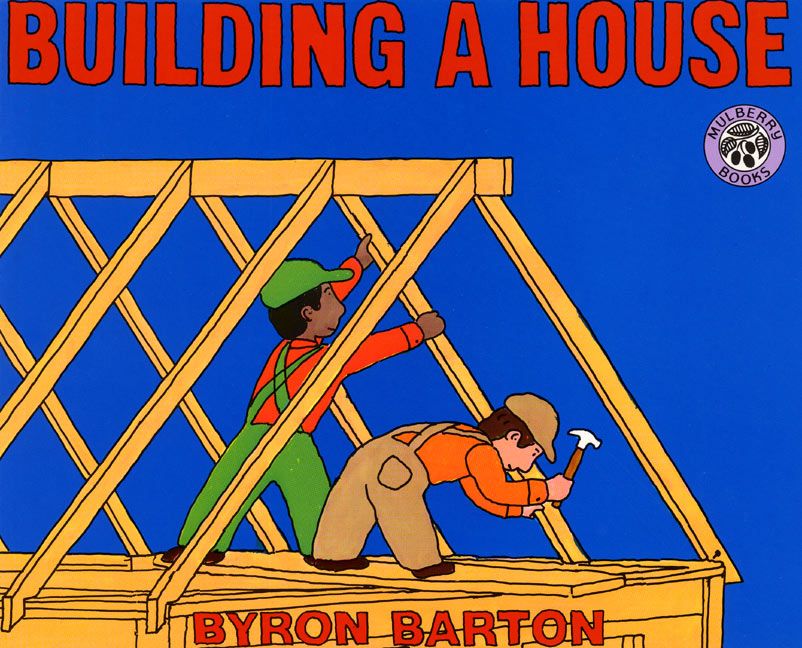 I tend to really enjoy the step-by-step progression of stories such as this, ones that cover the start-to-finish process of a project. This is one reason I'm such a big fan of David Macaulay. Byron Barton's style is nowhere near the complexity of Macaulay, but neither is his intent. In Building a House, Barton teaches clearly and efficiently the steps required in house-building, all the while teaching some side information that helps build a child's vocabulary and understanding.
In his super simplified style, he words each section in the following way: "Profession + Verb + Object." In doing so, he affirms the structure of English grammar, teaches the students about various professions, and invites children to recognize that each profession differs and that each stage of house-building might require the talents of different professionals.
As mentioned above, the artwork in this book is not complex at all, involving simple free-hand drawing with markers. Outlined in black, the bold colors fill the empty spaces without shading, and yet are detailed enough to clearly distinguish between professions and their machines, tools, and materials. Parents or teachers can use these illustrations to teach and quiz the children about what they've seen around them at construction sites or in their own homes.
©2016 E.T.