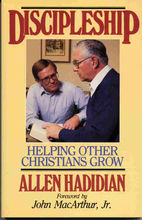 Because I am not aware of what copyright laws might pertain to publishing hand-made outlines of books, I'm willing to remove this post immediately, if anyone brings an objection. In the meantime, however, I'd like to share my notes from perhaps the best, yet sadly out-of-print, handbooks on discipleship available. Discipleship by Allen Hadidian has proven to be the most practical guide in my own life, and I hope it's an encouragement to you as well. Again, if I'm overstepping my bounds in publishing my notes here, my apologies!
©2016 E.T.
Foreword (by John MacArthur) (9)
Summary of the Christian's ministry – I John 2:6. "We are to be what He was—and that means we are to be disciplers. See: Matthew 25:27. Acts 14:21. Matthew 28:19. Luke 6:40. Acts 1:1.
Chapter 1: The Value of Discipling (11)
The Value of Discipling to Christ. Luke 19:10. John 3:16.

Men were His method. Acts 1:1. Matthew 28:18-20. II Timothy 2:2 (12) Matthew 4:19.
Every believer is engaged in the monumental task of finishing the work of Christ.

The Value of Discipling to the Disciple

Discipling increases the rate of the disciple's growth (13)
It stops wrong behavioral patterns in the disciple (14)
It protects the disciple (15). Illustration: The new Christian has the helmet of salvation and a very small shield of faith, but that is about it. That is why discipling is so important. The discipler is spiritually dressing up the immature Christian.
Discipling provides the disciple with a personal friend
It provides the disciple with counsel. (16)

The value of discipling the disciples

It brings joy to the discipler (3 John 4; I Thessalonians 2:19-20; I Thessalonians 3:9)
It purifies the life of the discipler (17)
It develops ministerial skills in the discipler
It provides an outlet for the discipler (18)

The Value of discipling to the church

If we do not disciple, there is no guarantee that a ministry will continue (II Timothy 2:2)
We must reproduce it in the next generation [Judges 2:10] (19)

The value of discipleship to the world

Illustration: "I do not want written on my tombstone: 'He came. He stayed. He left.'"
There are three things that are eternal: God (Deuteronomy 33:27), His Word (Isaiah 40:8), and people (John 5:28-29).
Chapter 2: The Definition of Discipling (21)
Three phases of discipleship:

Phase 1: Evangelizing men. II Peter 3:9. John 3:16. Matthew 28:19 – When Jesus tells us to "make disciples" He is telling us first to go and "make believers." Acts 14:21. Matthew 28:19. Mark 16:15. Luke 24:47. Philemon 10.
Phase 2: Edifying men (22). I John 2:13-14. Building up, or, the nurturing of a person's growth in Christ. Galatians 4:19. Matthew 28:20. Acts 14:21-22.
Phase 3: Equipping men (23). John 17:18. John 20:21.

Some marks of discipleship (24)

Mark 1: Guardianship – The discipler is watching over the disciple and his growth. Hebrews 13:17. I Thessalonians 2.
Mark 2: Example (25)
Mark 3: Direction. Matthew 4:19.

In a discipleship ministry, there are clearly defined goals and a plan to achieve those goals.
He does not want to be just getting together with the disciple and "seeing what happens."

Mark 4: Time (26)

A discipling ministry requires a long-term commitment, not short.
Teaching a ten-week course is not discipling someone.
Discpling is spending time with him until he stand on his own and begin a discipling ministry in the life of someone else. (27)

Mark 5: Commitment of one's life.
Mark 6: Numerical limitation.
Mark 7: Friendship. John 15:14. Luke 12:4. The discipler is not someone who walks into someone's life for a few hours a week, and then disappears until class meets again (28).

Complete definition (29): Discpling others is the process by which a Christian with a life worth emulating (example) commits himself (commitment) for an extended period of time (time) to a few individuals (numerical limitation) who have been won to Christ (PHASE 1) the purpose being (direction) to aid and guide (guardianship) their growth to maturity (PHASE 2) and equip them to reproduce themselves in a third spiritual generation (PHASE 3).
Chapter 3: Goals in Discpling (31)
…growth to maturity and equip them to reproduce themselves in a third spiritual generation…
The goals are both maturity and multiplication.
Goal 1: People who are mature. Colossians 1:28; Romans 12:1. Romans 6:13. Philippians 3:12.

Mark 1: Christlike in Character (33). Ephesians 4:13. Galatians 5:22-23.
Mark 2: Dependence on Christ. A person goes from a state of dependence on parents to independence, from independence from God to dependence on Him. Romans 4:20. Galatians 2:20. Philippians 3:10.
Mark 3: Independent of others (34).

A person is spirituals mature when he is at the point of his life at which he is no longer completely dependent on other Christians for his spiritual growth—that is not to say that people are not important.
The discipler should be assisting the person to be basically free and independent of him as a continual overseer (35).
Acts 20:32. All the elders from Ephesus needed were the Lord and the Word of the Lord.

Mark 4: Consistency of the walk. Consistency is an overall direction of visible growth in a Christian's life in spite of periodic stumbling.
Mark 5: Stability due to a clear understanding of biblical truth. Ephesians 4:14. Acts 20:29-31. II Corinthians 11:13-15. Colossians 2:8.

Goal 2: People who are multipliers (36).

Examples of multiplication.

II Timothy 2:2. Paul—Timothy—Faithful Men—Others
I Thessalonians 1:6-8 (37). Paul, Sylvaus, Timothy—The Thessalonians—Believers in Macedonia and Achaia
Matthew 28:18-20; Acts 8:26-39 (38). Jesus—Disciples—Philip—Ethiopian Eunuch—Africans.
A disciple told a teacher: "I want you to teach him all you have taught me." The teacher replied, "I am not going to teach him; you are. If you cannot, then I have failed." (39)

Explosiveness of multiplication.

linear growth (one dollar a week for 52 weeks = $52)
exponential growth (one penny per week, doubled each week for 52 weeks = for only the 52nd week, $22,517,998,136,852.48) (41)

If you could tear one piece of paper (1/1000") and stack that two halves (2/1000") fifty time, you would get a stack of paper approximately 17,000,000 miles high (equal to 34 round trips to the moon)
The old checkerboard and a grain of wheat: after 64 squares, you could bury India 50 feet deep in wheat

It's use in discipleship :

At 1,000 converts per day, an evangelist could reach 365,000 people in a year. Impressive.
A disciple who reaches on person in a year and disciples that person to the point where she can reach and disciple another. That is one person in a year. Good, but not great.
Here's a graph that shows the effects after years, however:
| | | |
| --- | --- | --- |
| Years | Evangelist | Discipler |
| 1 | 365,000 | 2 |
| 2 | 730,000 | 4 |
| 3 | 1,095,000 | 8 |
| 6 | 2,190,000 | 64 |
| 10 | 3,650,000 | 1,024 |
| 19 | 6,935,000 | 524,288 |
| 20 | 7,300,000 | 1,048,576 |
| 25 | 9,125,000 | 33,554,432 |
| 26 | 9,490,000 | 67,108,864 |
| 27 | 9,855,000 | 134,217,728 |
| 32 | 12,045,000 | 1,073,741,824 |
| 35 | 13,140,000 | 8,589,934,592 |
A) Ten years before you've reached what it took the evangelist one day to reach.
B) Nineteen years before you've reached what it took the evangelist one year to reach.
C) But in 32.5 years, you could reach all of China (the world's largest nation) (at which point the evangelist would have reached 12,045,000 people).
D) And in 34.5 years, you could reach the entire world (at which point the evangelist would have reached 12,775,000 people).
E) It would take the evangelist 19,178 years to reach 7 billion people at the rate of 1000 people per day.
29 years… and…536,870,912
Marks of the multiplying disciple: (43)

Mark 1: Trained in evangelism.
Mark 2: Trained in grounding new Christians in the faith.
Mark 3: Trained in equipping mature Christians to reproduce themselves.
Chapter 4: Discipling in a Word—Example (45)
…life worth emulating…
Introduction.

Discipling takes place in the third generation only if something significant occurs in the second generation.
This is determined by whether anything significant is happening in you, the discipler.
Your example is crucial.

Scripture (46)

I Corinthians 4:16 – Paul to the Corinthians
I Corinthians 11:1 – Corinthians to others
II Thessalonians 3:7-9 – Paul to the Thessalonians
I Timothy 4:12 – Timothy to others
I Timothy 4:!6 – By life and words
Titus 2:6-8 – In good deeds
Philippians 3:17; 4:9 – Paul to the Philippians
I Peter 5:2-3 – Elders to the flock

The value of example

Value 1: An example is a powerful agent of change [Obama?]
Value 2: We see the Christian life is possible when we see it lived by others (47)
Value 3: We learn to follow the Lord by following the Lord's people (48)

Some say, "Don't follow men. Follow God. Keep your eyes on Christ."
This is true that we are only to follow Christ and his pattern for living, but Christ's pattern for living is found in many individuals.

Value 4: Being the right example gives you credibility, especially with those you disciple.
Value 5: Seeing the examples of others encourages us to engage in activities that we formerly found threatening. (49)

Example and your responsibility

The sobering aspect of example: disciples will reproduce not only your strengths, but also your weaknesses [a lot like children with parents]

Abraham in Genesis 20:1-7; Isaac in 26:1-11
Luke 6:40 (this has to do with behavior, not knowledge)

The key word in being an example: Integrity.(50)
Exercise: Considering your attitudes, values, behaviors, and habits… (51)

Write down what strengths your disciple will have.
Write down what weaknesses your disciple will have.
Now pray and thank God for your strengths and ask Him to begin dealing with your weaknesses.
Chapter 5: Marks of a Discipler (53)
Introduction. "Discipling someone is not simply the transference of information, but rather the imparting of one's life to another." I Thessalonians 2:8.
Commitment to Loving the Lord Jesus Christ.

What does it mean to love the Lord Jesus? (54).

For Peter: if he recognized his love for Jesus, then his love for the flock would only be natural. John 21:15-17.
Obedience. John 14:15; (21:19, 22). It's not a matter of telling Him "I love you."
Nurture your walk with Him.

Unless you lead this kind of life, you have nothing to say to your disciples.
Neglect (in my pursuing Him) is as detrimental to my ability to lead as out-and-out sin.
What should I incorporate into my lifestyle that improve my love-walk with the Lord Jesus Christ? (55) [all of the following and including A]

A heart for people.

Romans 1:11; Philippians 1:7-8, 24-25; 2:20; 4:1; Colossians 4:13.
John 13:1.
Jesus' love was expressed through a commitment to service. (56)

A holy, godly life (57)

Your usefulness to God as a discipler is in direct proportion to your purity. I Timothy 2:21 (after v.14-20). II Thessalonians 2:10. Cleansing precedes usefulness.
A holy person is not a perfect person, but a progressing person.
The two parts of getting right with God after you sin: I John 1:9; Ezra 10:11 Psalm 139:23-24..

Confession
Repentance.

Pure Motives. (58)

Ultimately the only reason to do anything is so that God will be glorified. I Cor. 10:31; I Thessalonians 2:11-12. (59)
The desire to see spiritual growth and maturity in others was Paul's motive in ministry. Colossians 1:28-29.

Full understanding of the demands of discipling others.

Sacrifice and cost. The discipler will have to give up many of his own rights and desires. Does that appeal to you? Matthew 28:18-20.
God's tasks are difficult. Exodus 3:12; Joshua 1:5; Judges 6:16; God's presence is promised when His people engage themselves in tasks for Him that are demanding and difficult. (60)
Paul know it. Colossians 1:28-29; I Thes 2:9;
II Timothy 2:2 – pass the baton. Verses 3-6 – What is required of you as you pass it! You should not be committed to verse 2 unless you are committed to living out verses 3-6.
Six demands that are made of a discipler: (61)

Time
Emotional strength. II Corinthians 11:29; I Thessalonians 3:5.
Physical strength (62). Note Jesus' "longest day" in Matthew 12-13 and Mark 4. Mark 4:39.
Financial and material possessions. (63)
Lack of public recognition.
Exposure to personal inadequacies and weaknesses.
Ask yourself: What demands made of me by the discipling ministry are most difficult for me to handle? (64)

Consistency in witnessing to others.

Another fear that many have is that they lack a credible life to back up the claims of the Gospel.
What about the consistency of your witness to Christ?
I would challenge you to make witnessing for Christ a way of life (65)
Why not pray and tell God your availability to witness for Him to others. then when God is faithful in bringing people across your path, break the "sound barrier" and tell them the good news of the Gospel.

Understanding of the Holy Spirit's role in discipling others.

The major responsibility for the disciple's growth is not mine.
The Holy Spirit ministers to isolated believers. (66)

Be a person of prayer.

If you are like most Christians, you do not pray nearly as much as you should.
Discipling someone is a supernatural ministry.
If you are not a person of prayer, I can guarantee that the discipling ministry will be frustrating. (67)

Be a student of the Bible (68)

Doctrinal knowledge
Basic Bible knowledge
Practical knowledge (69)

Maturing, balanced growth.

Paul knew nothing of Christian living that was stagnant, static or neutral.
I know what my strengths are, and I am confident that the men I am discipling will develop those same strengths. But it is equally probable that they will also develop my weaknesses [like a child to a parent]
How we need to present a balanced view of the Christian life! (70)
Chapter 6: Selecting and Challenging Potential Disciples (71)
…to a few individuals…
Various formats

One-on-one (72)
Small group

Selecting potential disciples

Number of disciples

Jesus was concerned with quality not quantity
"If you train one man [or woman], then you penetrate the multitude." (73)
If you are just beginning discipling, it may be wise for you to disciple only one person.

God-given people.

John 17:6-9
If He gave us a command, He will also give us that which we need to obey the command. I believe that God has people ready to be won and taught by you.

Error of hasty selection.

If you lead someone to Christ, it is your responsibility to look after the welfare of that person, whether your interests are similar or not. (74)

Prayer in selecting. It was important to Jesus – Luke 6:12-13.
Role of disciple's ability in your decision. The disciples' potential was foremost in Christ's mind, and that must be your perspective. [perhaps explains why He chose Judas in the first place] (75)
Gender of disciples – If you meet someone of the opposite sex who wants to grow in Christ and needs personal attention, lead that person to someone of his/her own gender.
Qualities in discipling. The disciple must have

Faith in Christ If you have non-Christian contacts, begin and evangelistic Bible study. (76)
A teachable attitude.
A heart for God.
Faithfulness. II Timothy 2:2.

Do not pour your life into someone who is inconsistent in doing assignments or fulfilling little responsibilities, or who shows other signs of unfaithfulness. (77)
When it comes to selecting your "Timothy," find a person whose life is characterized by faithfulness.

The ability to keep your time commitment.

Where to find disciples. Some possibilities include…

Someone you led to Christ
Friend
Co-worker
Neighbor
Family member
Classmate
Fellow-church-member

Challenging a potential disciple (78)

Tell him you've noticed his desire to grow
Tell him how he could benefit from meeting with you
Tell him your goals
Tell him the time commitment
Have him pray about the decision
Have him determine whether or not meeting with you is God's will for his life at that time (essential)

Sample challenge.
Some pointers as you challenge (79)

Be enthusiastic as you challenge him.
Challenge him at a convenient time.
Make sure he understand what your are proposing.
Do not minimize the commitment when you challenge the person.
Be prepared in your challenge.
Chapter 7: Building a Disciple (81)
…aid and guide their growth to maturity and equip them to reproduce themselves in a third generation."
Introduction.

Teaching, training, and transforming.

Teaching involves knowledge and emphasizes the principles a disciple should know.
Training involves skill and emphasizes the practical things a disciple should be able to do.
Transforming involves conviction and emphasizes the perspective a disciple should have.Teaching (82)

Teach them all that Jesus commanded.

The scope of your teaching should include all that Christ spoke. This is crucial. Matthew 28:20.

Jesus. John 6:59; 7:14; 8:2; Mark 10:1; 1:22.
Paul. Acts 20:27-31; 18:11; 28:31; Colossians 1:28; II Timothy 3:16.

Principle of repetition (83) A good teacher realizes how quickly people forget. We only learn through repetition. Philippians 3:1; II Peter 1:12-13.
Principle of authority. Matthew 7:29.
Principle of simplicity. (84)

Mark 12:37; 4:33.
There will be times when you want to introduce new concepts and theological truths that are beyond his understanding in order to stimulate his thinking, but for the most part, keep the teaching simple and at his level of maturity.

Principle of variety.

Formal approach: go through a workbook, a book, or some other planned course of study.
Informal approach: uses the everyday circumstances of life to impart spiritual principles. Luke 21:1-4.

["It's a lot like the Christian life…"] (85)
Mark 8:14-21; 9:33-37; Luke 8:22-25; 12:13-34; 13:1-5.
Look for "teaching moments."

Principle of self-discovery. (86)

A person retains a truth better when he personally discovers it than when it is taught to him.
Send him to a verse (i.e. Matthew 6:25-34) and ask him to tell you what the principle is. This way he will learn the principle on his own from God's Word, not through your notes.

Principle of the use of Scripture.

NEVER teach a biblical principle apart from a Bible passage.
You ought to desire the Word of God to be the authority, not your own wisdom.

Training. Emphasizes the practical. We are to teach them to "observe all that" Christ commanded, Matthew 28:20.

Step 1: The disciple does it. (87) If your disciple is to learn the skills of the Christian life and ministry, you must be effective in them first. Mark 2:1-12; Acts 11:22-24.
Step 2: The discipler does it, and the disciple is with him.

The principle of observation. (88)
The principle of example.
After you learn to do something yourself, and then do it with the disciple watching you…

Step 3: The disciple does it, and the discipler is with him.

Mark 6:30-44; Acts 13:9-50.
The principle of challenge or delegation.
Principle of equipping or training. (89)
Principle of involvement.
Principle of evaluation. Mark 9:18.

Step 4: The disciple does it, and the discipler is in the background. (90)

Mark 9; Matthew 10:5-42; Matthew 11:1; Acts 15:36-41.
The principle of reproduction.

Transforming. (91). He will not continue in an activity unless he is transformed on the inside, that is, unless he gains a conviction that the particular activity is essential.

Fill the disciple with information on the subject.
Establish an atmosphere conducive to influencing the disciple…one in which the disciple will naturally develop godly perspectives (92).
Ask God to confirm the truth in the disciple's life.
Be a consistent example to the disciple.
Challenge the disciple to be obedient in the particular area.
Chapter 8: Interacting with a Disciple (93)
…commits himself for an extended period of time…purpose being to aid and guide…
Principles 1: The discipler is to love the disciple.

By personal sacrifice. (94) II Corinthians 12:15.
By personal concern.

Acts 14:21-22; 15:36. Paul desires to revisit the others cities to see how the brethren are. (95). Acts 18:23; 20:31; II Corinthians 11:2; Galatians 4:19; Philippians 1:21-26; I Thessalonians 2:11-12.
Are your concern and sacrifice similar to Paul's?
Be available to the disciple.
Pray for the disciple. You will find that you will become more committed and involved in that for which you pray.
Telephone the disciple. (96)
Spend time with the disciple.
Listen to the disciple who is in need.
Affirm the disciple.
Confront the disciple's sin.
Be prepared for your time with the disciple.
Give the disciple gifts.
Ask God for wisdom when meeting the disciple's needs.

Principle 2: The discipler must minister to the total person. (97)
Luke 2:52 teaches us that Jesus increases in wisdom, stature, and favor with God and men. Your ministry must be a total ministry.

The physical area.
The social area.
The mental area. (98)

His reading habits. Disciples who are readers show faster growth in their Christian life than non-readers.
Challenge your disciple to read good Christian books, or any books that will challenge him to think. (99)

 Principle 3: The disciple must spend time with the disciple…no escaping it.

Spend as much time as possible together. If only one hour per week, make the most of it.
If I am ministering to others, I have a principle: never go alone. (100)
If you are involved in various ministries, take the disciple with you. The value:

He will be able to see you in different situations.
Unity will develop.
Learning takes place through association. What Elijah left the scene, was Elisha prepared? Absolutely. (101)
During informal times, the disciple often becomes more open and honest about his victories and problems.
He will see that you view him as more than just a person who is part of your weekly calendar, but that instead you want to be his friend. (102)

Principle 4: The discipler must give a realistic view of himself to the disciple.
You can appear to be a spiritual giant with all the answers, but that's not realistic. Projecting a real image of yourself is important, because…

You can experience true fellowship.

Since when is the ministry of the Body of Christ one-sided?
II Corinthians 7:5-6. Who comforted Paul? Titus, his own disciple (103)

Freedom in living the Christian life can exist.
Trust can develop. (104)
Honesty is the result.

The disciple is to counsel the disciple. (105) Establish an atmosphere of honesty and openness…

By showing personal concern
By revealing your weaknesses
By making the disciple sense that you are a friend and not a part-time tutor
By being credible.
By being a listener (106)
By accepting the disciple.

Think through our relationship with God.
Divulging our weaknesses, struggles, and sin to God can never threaten the love relationship that exists between ourselves and Him.
Accepting the disciple means…

not showing external surprise when he tells you something wrong that he has done.
being available in times of discomfort or distress.
telling the disciple that you love him

The discipler must be ready to confront the disciple who is involved in sin (107)
Admonishment. Colossians 1:28; I Corinthians 4:14.

Here are some principles to follow in your counseling ministry:

Use the Bible in counseling. Romans 15:4; II Timothy 3:!6-17. (108)
Never divulge the personal things he shares.
Never let you're your listening turn into curiosity
Do not let the disciple give a detailed explanation of his sin…words paint pictures.
Chapter 9: One-on-one Meeting (109)
…the purpose being to… (i.e. "What do I do when I meet with the disciple?")
Start with Prayer (110)
Have a discussion time.

What God has done this past week
Victories and defeats
Answers to prayer
How last week's lesson was used this week
Evangelistic opportunities.

Have a lesson time.

Determine the possible topics that could be covered (111) (teaching)

Goals. What do you want the disciple to eventually become?
Objectives.

What knowledge must the disciple have to reach that goal?
What skill must they be able to master to reach that goal?
GOAL AND OBJECTIVES IN CHART FORM (pages 112-115)

Discern the disciple's needs (determines the specific topic you will cover) (teaching)

What are his immediate needs?
Discern between his real needs and his felt needs.
Three sources from which a disciple can receive information:

Discipler (116)
His own study
Group teaching

Ideas for teaching a new Christian (see page 116 for a list)

Select the material to be used (teaching)
Determine how you want to present the material to the disciple, and then be diligent in your preparation (teaching)
Summarize the principles that were learned (teaching) (117)
Direct the disciple (and yourself) to specific application (training)

James 1:22
Many times the application is either not planned or neglected because of lack of time. Don't let that happen. Ask for specific application.

Emphasize accountability (training). Accountability says that you have the right to question my behavior to see if I have done what I said I would do. (118
Seek to have the disciple's life transformed in the particular area (transforming)

Close with conversational prayer. Have him pray first and then you close (119)
Last comment: Have variety and challenge your disciple. Some ideas…

Just talk and pray.
Go out and eat together.
Worship together in song.
Spend time with an older, godly individual.
Discuss a Christian book.
Memorize Scripture together.
Chapter 10: Motivating a Disciple (121)
Motivate him with unconditional love.

Consider John 13-16.
For practical ideas on how to love a disciple, see the chapter on interaction. (122)

Motivate by encouraging the disciple.
A lost art? Hebrews 3:13; I Thess 2:11; 5:11; Col 2:1-2a; 4:8; Acts 16:40. (123)
Encouragement is simply helping your disciple to be more God-conscious in daily life.
Discouragement sets in when he forgets that God is in control.
Here are some practical ways to encourage.

Express encouraging thoughts to him.

It's so easy to think encouraging thoughts about someone, yet we are so slow to express them
Tell the disciple about the joy he brings to you. I Thes. 2:19-20. (124)
Tell him you notice his growth in Christ. II Thes. 1:3-4; 8.
Tell him about the positive qualities that others have noted about him.
Tell the disciple about he ministers to you.

Send him notes of appreciation.
When praying with him, mention him by name and thank God for him.
Be interested in and excited over what the disciple is doing

Motivate him by encouraging him to greater faith (126)

Give him responsibility and then increase it according to his response

Involvement always brings motivation. John 4:2; 6:1-13; 21:15; 10:3. 17.
One reason people aren't motivated to disciple is that they don't have any victories in the Lord. (127)
[You need to BE a discipler]
Playing it safe, most Christians are unwilling to step out into new areas of responsibility.
Do not give the disciple the chance to remain static in his faith. (128)

Have him read books that show how men of God trust God.
Have him read about men of faith in the Bible
Hand the disciple personal challenges.

Motivate by conveying enthusiasm (129)

It involves a Spirit-filled, optimistic, joyful, positive attitude that naturally draws others to similar goals and actions. (130)
I often stop and evaluate my life, taking note of the presence of enthusiasm in it. What kind of perspective on the Christian life are my disciples forming?

Motivate by a consistent walk.
Motivate by seeing the potential of the disciple. (131)

See him as what he can become, not simply as what he is.
John 17:20 – What foresight! Jesus looked past the disciples and saw the third generation. He saw potential.
I often plant the seed-thought of purpose in my disciples. (132)

When I pray with them
When he responds in appreciation for my helping him
This broadens his perspective on the Christian life, giving him a sense of potential and motivation.

Motivate by emphasizing practical training.

How to develop a particular skill
How to witness for Christ
How to disciple others (133)
Too many Christian are motivated to serve Christ, but don't know how since they have never been trained to do so.
If you want to motivate: "Show them how."

Motivate by praying for the disciple.

Colossians 1:8-9. Note Paul's goal and his method.
Philippians 1:9-10. Note the same.

Motivate by getting the disciple into the Bible. (134)

One of the most meaningful times I have had in the Word is when I read Psalm 119 in one sitting.
Teach him how to study the Bible.