How reassuring Robert was! Never had I known a man of a greater, yet more childlike faith. He simply believed God and was willing to go anywhere and attempt anything without even a flicker of doubt but that the Lord would see him through! Lack of money or recommendation meant absolutely nothing to him. 'The Lord knoweth that we have need of these things' was his theme. He never once wavered. (Trudie Neighbour, Lord, Help!, 132)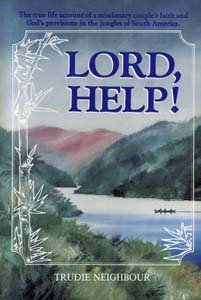 One of the missionaries that was instrumental in leading my wife to the Lord had given her this book many years ago, and it recently made its way out of storage and into our lives again. While for some reason I rarely look forward to reading a biography, I'm always terribly satisfied whenever I do. This account of the Neighbour's first several months of marriage in the jungles of Columbia has been no exception.
I love missionaries, and I've been enthralled by such lives as that of James Frasier in Mountain Rain or of the four martyrs described by Elizabeth Elliot in Through Gates of Splendor. Before beginning this book, however, I wasn't really sure what I should anticipate about the Neighbours. At a glance I knew that their story would look at US missions in Columbia beginning in the 1940s, but that was really all I knew about it. Would it cover their entire lives, I wondered, from childhood to present, like so many memoirs? Or would it be more situational, covering just a short period of time? It proved to be the latter, and honestly, I think I would have enjoyed the earlier chapters a lot more had I known that from the outset.
A tagline on the back cover describes the book as "a biography that reads like an adventure novel," which got me excited at first. But when the first nine chapters recorded little more than the details of the Neighbours' straight-laced courtship just sticky with romantic sap, I thought it might be simply 'an adventure novel' starring June and Ward Cleaver. When the newlyweds finally land in Columbia, however, and start hoofing their way through the jungles and fleeing from revolutionaries while sharing their faith along the way, I began to feel the excitement. I even found myself wishing I had more time to get to that next chapter, so by the end, I totally agree with the "adventure novel" description, despite its beginning.
What I imagine is that Trudie Neighbour, likely an engaging speaker, spent a lifetime regaling her friends and family with tales of their short time in Columbia. Then, as she grew older, those friends demanded that she get her tales published for all to read and to recognize the guiding of the Lord in their lives. Praise God for it, for each chapter is a record of God's enduring faithfulness, especially in getting His Gospel to those who have never heard. This book has encouraged me in many ways, but specifically in the power of Scripture memorization—for Trudie and Robert both tend to find the deepest encouragement from a recalled Bible verse throughout their scenarios—and in the power of prayer. These are often strong takeaways from missionary biographies, which ought to clue any aspiring or current missionary into the secrets of a successful ministry.
I would recommend this book to any mission-loving believer, but especially to the younger people aspiring to a join God's work in a specific foreign field. Let the Lord's faithfulness in this young couple's lives encourage them toward risking it all for the sake of the Kingdom! "Faithful is He Who has called you, Who will also do it."
©2017 E.T.