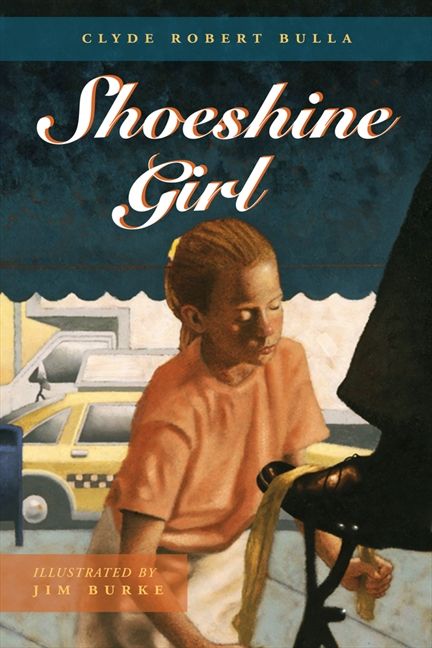 My children and I have recently been enjoying a selection of short novels by Clyde Robert Bulla, so it's no surprise that we came to and thoroughly enjoyed this, our most recent read. Since all the Bulla books we'd read before this were historical fiction—books like The Sword in the Tree and The Secret Valley—I was a bit surprised to find that he also wrote modern tales about realistic kids. And thankfully, he finally offers his readers a female protagonist for my daughter to enjoy!
This book starts out sort of rough, and I wasn't sure I'd like it. The main character, Sarah Ida, is a ten-year-old brat who goes to live with her aunt, though she can't fully understand why. For whatever reason, Sarah Ida believes that she can only be comfortable in life if she's got some money in her pocket, so after failing to beg, borrow, or steal that money, she decides to annoy her aunt by going out and getting a real job. Through her experiences as a shoeshine girl working for an old man named Al, Sarah Ida eventually learns responsibility and the importance of respecting and caring for people other than herself.
The lesson Bella teaches in this book is a good one—that it's important to work hard and respect others—but I don't really think he chose the best way to teach it, at least from my own biblical-worldview perspective. For starters, Sarah Ida begins the story as an abrasive, unloving and uncaring selfish child who shows no respect for either her aunt (an adult) or her brand new friend (a peer). She eventually learns to respect these people, but not in the way I'd expect. She learns to give respect only after getting respect, and I think that Bulla's got it backwards, at least according to Jesus.
Jesus taught a whole lot about servant leadership, and some of the most famous lessons are these: "Many of the first will be last, and the last will be first" (Mark 10:31); "The greatest among you shall be your servant. Whoever exalts himself will be humbled, and whoever humbles himself will be exalted" (Matthew 23:11-12); and "If I then, your Lord and Teacher, have washed your feet, you also ought to wash one another's feet. For I have given you an example, that you also should do just as I have done to you" (John 13:14-15).
Clyde Robert Bulla turns such teaching on its head in this story. Little Sarah Ida tries to buck the system and stick it to her aunt by doing her own thing—thereby completely disrespecting her—yet in doing so, she works hard and ends up earning this adult's respect. Only at this point does Sarah Ida learn how important the adults in her life are to her, and then she finally becomes grateful for and sacrificial to them. I suppose this twist of Scripture towards the supposed virtue of self-love-above-all-else is why The Shoeshine Girl ranks among Bulla's best-loved stories with modern readers. He panders to the Christ-less belief in the individual's self-value, first-and-foremost, and the world eats that crap up.
I love Bulla's books and I'll keep reading them to my kids, but now I know that not every character he draws is worth emulating and not every lesson he teaches is one that I want my kids to learn. The grain of salt has now been applied to all my future reads.
©2018 E.T.